The Process
I am a compositing photographer – all my interior real estate photographs are composited flash/ambient blends to show accurate colour and lighting texture – the way that I always do it.
I don't deliver outdated looking HDR (High Dynamic Range) images that have been ground up and spat out by computer software.
Nor do I take basic flash photos with ceiling fan shadows on the ceilings. You know the type.
Similar to the "good old days" when there existed products made by actual human hands, I craft each delivered image in much the same way, using several images taken at varying exposure and supplemented with flash lighting. The results are delivered images that are professionally lit and fine-tuned to a point where they would not look out of place in even the finest interior design magazines. Shadows are realistic, textures are seen as they are meant to be, interiors and exteriors are correctly exposed, and colours are accurate and vibrant.
Photographic Equipment for Real Estate Photography
Cameras
Nikon Z6ii 24 megapixel Mirrorless 

camera

. State of the art an capable of  creating 4K video.
Nikon D800 36 megapixel DSLR 

camera

  Getting a bit old now, but still producing stunning images with great resolution, contrast and dynamic range.
DJI Mavic Air 2 Drone

48 megapixel camera and 4K video – for aerial photos and for aerial photos and video .
Lenses
Nikon 14-30mm f4S – My new Go-To lens for the majority of my interior real estate shots. Superb quality. Wide enough, without being too wide.
Nikon 50mm f1.8S – Used for detail shots where shallow depth of field is required for effect.
Nikon AF-S 16-35mm f4 – My back-up super wide angle lens  real estate shots.
Nikon AF-S 20mm f1.8 – Superbly sharp, and preferred when I don't need to go as wide as 14mm. Produces stunning stars from bright light points.
Nikon 24mm f3.5 PC-E – A Perspective Control lens that allows unique shots and can easily solve a lot of alignment issues. Generally used only to solve specific framing requirements.
Nikon AF-S 28mm f1.8 – Superbly sharp, and preferred when I don't need to go as wide as 20mm. Also produces stunning stars from bright light points.
Nikon AF-S 50mm f1.8 – Back-up lens for detail shots where shallow depth of field is required for effect.
Nikon AF-S 85mm f1.8 – Longer than the 50mm. Used for detail shots where shallow depth of field is required for effect.
Nikon AF-S 105mm f2.8 Micro – for extreme close-up details.
 

Additionally, I have other telephoto and telephoto zoom lenses that are rarely needed for most real estate photoshoots, but often very relevant for other photographic needs.
Lighting
Godox AD600BM Flashgun – My main flash light – Very powerful but portable and battery powered. Wireless radio connectivity to cameras
Nikon SB-910 Speedlight Flashguns – Used in smaller rooms where full-powered units are not needed.
Elinchrom BX500Ri Flash units – My back-up lighting source. Mains powered. Big and powerful. Used for very large rooms.
Remote Control
3 x PocketWizard Flex TT5 Transceivers – used to remotely trigger my cameras and flashguns.
Tripods
Manfrotto 055CX3 Carbon Fibre Tripod with Kirk Enterprises Ballhead and Quick-Release clamps – for holding the camera steady during my Flash–Ambient exposures.
Manfrotto 8 metre Tall Tripod – for unique perspectives – used where the drone cannot be legally flown.
Other Items
X-rite ColorChecker – Used to get colours accurate. Often, a house may feature walls that might be a very pale grey or pink or green or blue. The eye can be deceptive. Using the ColorChecker where necessary will help render the colour accurately.
CamRanger – Used to control the camera remotely, but with the image viewed remotely on my iPhone or iPad. Typically used at the top of my 8-metre tall tripod, but equally useful when the camera is backed into a corner to get a bit of extra distance in small rooms.
Gossen Light Meter – Used when lighting conditions can be tricky.
Filters – Various Polarizing, Neutral Density and Graduated Neutral Density filters for controlling the light in specific situations.
SanDisk CF Express and SD Cards for storing the images captured by the cameras.
One thousand and one miscellaneous accessories, tools, batteries and such – just to ensure that every situation is covered.
Would you like to know more?
Do you have a short-term listing property perhaps with Airbnb? Do you want to help get more interest in it?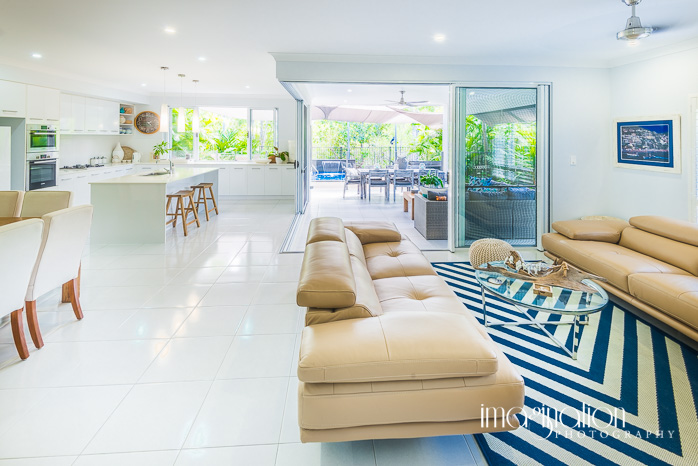 "Tony has always been great for us. Not only are his photographs of the highest quality, but he is also very flexible with regards to rescheduling for weather or property difficulties.
Overall first class service."